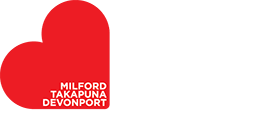 LIFESTYLE SEEKER? FOODIE? BEACH GOER?
Check out our Top 10 things to do
From volcanic views to amazing heritage attractions, there is an abundance of activities to do whilst visiting the North Shore. Check out our Top 10 Must Do's and start planning your trip.
Enjoy the peace and tranquility, plentiful bird life and home of the historic Pumphouse Theatre in Killarney Park, Takapuna. Try your hand at windsurfing or try you luck in catching a trout at Sylvan Park, Milford. You will need a licence which can be bought from most fishing retailers, or online. A day licence is available costing just $20 with reduced rates for children. SEE MORE HERE.
There are plenty of opportunities to enjoy a live performance, with a variety of local and international acts, comedy, dance, music, art exhibition, buskers, markets, street festivals and cinema, there is always plenty going on. Check out the very latest HERE.
Get in the water, or on it!
Get out on the water and enjoy stand up paddle boarding, windsurfing, kayaking, or sailing. There are boating and cruising clubs in Devonport, Narrowneck, Takapuna and Milford.
People have been part of the North Shore landscape for centuries. Migrations from eastern Polynesia brought ancestral Polynesians to Aotearoa probably around the 1200s. Oral history tells of the Tainui canoe first landing at Te Hau Kapua (Torpedo Bay) where the Tohunga Taikehu climbed Takapuna Hill (North Head) to survey the surrounding area before leaving for the south. At this time the North Shore landscape was mostly covered with a mixed podocarp-broadleaf forest dominated by kauri (agathisaustralis), and somewhat altered by volcanic activity.
Shopping on the North Shore
Devonport, Takapuna and Milford offer a shopping experience unlike the other; yet similarities lie in consistently friendly service and a relaxed pace. Whether it's one-off gifts from Devonport's boutiques, leading NZ fashion labels in Takapunaor items of desire in Milford, each area boasts an array of quality retailers that will undoubtedly meet individual needs.
Shore City, Takapuna and The Milford Centre offer variety and convenience and are ideal for beautiful gifts, places to eat and the latest in fashion & homewares.
With so many areas to explore, perhaps the best way to go is by foot. There are a number of self guided walks available or you could make up your own.
Find your inner peace with a Yoga or Pilates session or relax with a blissful massage experience at one of many providers such as Bliss Reflexology or ikoi Spa.
Treat yourself to something sweet, dine in or take away, go for your trusted favorite or try something new. Its always a good time to indulge and there are plenty of choices to keep your taste buds tingling with anticipation.