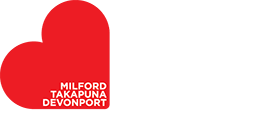 BEACHES, SHOPPING, LIFESTYLE.
Beaches on the North Shore
North Shore beaches are among the best in the country. They're family friendly, easily accessed, lively and much loved. They're the perfect place to relax and enjoy the clear waters of the Waitematā Harbour and Hauraki Gulf. The coastal walk from Devonport to Takapuna provides access to secluded bays and beaches that can only be reached an hour or two either side of low tide.  There will be plenty of time for peace and tranquility, with the comfort of knowing that there are Cafés, shops and restaurants only a few minutes away.
Devonport Beach and Torpedo Bay
Just beside the ferry terminal and next to the Queens Parade Reserve is Devonport Beach, a popular spot with locals and visitor alike. The beach is an ideal sport for a picnic and a swim. Walk or cycle along King Edward Parade, on the edge of the Waitematā Harbour, to Torpedo Bay, home of the Navy Museum. A little further around the corner you will find North Head/Maungauika and the beautiful Cheltenham Beach.
One of the best kept secrets of the North Shore is Cheltenham Beach offering a stunning strip of white sand that sits right below North Head/Maungauika. The waters are lagoon-blue, perfectly clear and inviting. At the Northern end is a playground, and the popular Vauxhall Shops where you can get the finest coffee, genuine French pastry or hand made ice cream.
Like Takapuna Beach, swimming at Narrow Neck is good at all tides, and if you time it right at the weekend, you'll be greeted by the sight of the dozens of small yachts racing from the Wakatere Boating Club, while you enjoy a coffee from the Narrow Neck Beach café. When the tide is low, you can walk around the cliffs at the northern end of the beach towards Takapuna and Milford, taking one – two hours.
Takapuna Beach is a 1km stretch of white sand coast line, a much loved and well utilised beach on the North Shore. The ocean is typically calm and clear and one can swim at any point in the tide. It's popular walkers, runners, paddle boarders, swimmers, boaties and surfers if the wind is right. Running from Clifton Road, close to Hauraki Corner in the south, through to the Takapuna Boat Ramp with access to the Fossil Forest and Lava Trail.
Milford Beach is the quieter than its neighbouring Takapuna beach and offers the same clear waters and white sands, with normally a few less people. The beach is located just a few minutes walk from the heart of the village.
At the northern end of this safe and family-friendly beach you'll find the popular Milford Reserve and Milford Marina with its foot bridge across the marina.
While North Shore beaches are generally safe and lack the fierce waves and undertows of some of Auckland's west coast beaches, water safety is still paramount. New Zealand Water Safety has a useful water safety code that applies whether you are swimming or getting out on the water. You can find the water safety code guidelines HERE