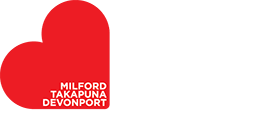 EXPLORING THE NORTH SHORE IS VERY EASY
Exploring the North Shore
Exploring the Devonport, Takapuna and Milford area is easy by using a combination of Foot or Bike and Bus and Ferry.
There are many frequent direct services to and from Auckland CBD and Takapuna with connecting services on to both Milford and Devonport.
A bus trip from Auckland CBD to Takapuna normally takes 15 – 20 minutes. Services also run regularly from Devonport to Takapuna and Takapuna to Milford.
Use the Auckland Transport Bus Train Ferry planner to find the best way to travel, routes to use with departure and arrival times.
The Hop card can be used on Bus, Trains and Ferries. SEE MORE HERE.
Bikes maybe taken onto the Ferries without any additional charge. Cycling from Devonport to Takapuna and on to Milford using the Green Route is an ideal way to explore the area. Check out the following route maps.
Ferries offer an easy, fast and scenic way to travel to and from the North Shore. There are services every 30 minutes to and from Auckland CBD to and from Devonport with the trip taking around 12 minutes. Once you arrive in Devonport, you can connect with buses at the ferry terminal to take you on to Takapuna and Milford.
The best motorway exit for both Takapuna and Devonport is the Esmonde road exit. Milford is can also be accessed from Esmonde road or slightly more directly by taking the first exit after Esmonde Road being, Northcote Road, then turn right at the top of the ramp and travel past Smales Farm and head left to Milford or Right for Takapuna. Outside of peak hour it can take as little as 10 minutes to get to Takapuna from Auckland CBD and from Auckland Airport it will take between 45-60 minutes.
Taxi and Uber options are available throughtout the Auckland and the North Shore. A Taxi from the Auckland CBD TO Takapuna should cost around NZ$30, while taking a Taxi from the airport should cost approximately NZ$80.
Co-op Taxis – (09) 300 3000
Alert Taxi – (09) 309 2000
Green Cabs – 0508-447-336
Uber: SEE MORE HERE
Airport shuttles are plentiful and you can book one HERE.
SkyBus is a regular 24/7 City-to-Airport and return bus. This is particularly useful for those wishing to head straight to Devonport as the drop off point is close to the. SEE MORE HERE.
With the beaches, parks, pathways, roads and tracks there are plenty of options for exploring the North Shore on foot. It will take around 2 hours to walk from Devonport to Takapuna and a further half an hour to walk through to Milford.
There are a number of options, SEE MORE HERE.
Mostly, parking is free in the Devonport area, but you must observe the time restrictions or you risk a fine. Different parking zones allow from 60 minutes to over three hours or all-day parking. SEE MORE HERE.
Anzac street

Anzac Street Car Park offers pay and display parking as well as monthly parking leases with casual parking from $1 per hour. You need to pay immediately after you park, estimating the time you will stay. The first 2 hours are only $1 per hour, but the hourly rate increases if you stay longer. You can get free parking outside main business hours:
These tariffs are a guideline only and subject to change. Refer to the schedule of fees at the car park entry.

Wilson car parking

There are a number of Wilson Car Parks around Takapuna with rates ranging from $3 an hour to $11 a day. The car parks are at various locations including: Blomfield Spa, The Strand, Como Street, Hurstmere Road, Killarney Street, and Northcroft Street.

Shore City Shopping Centre

Shore City Shopping Centre has parking entrances on Anzac Street and Como Street with three hours FREE Parking to shopping centre customers. SEE MORE HERE.

AT Park from Auckland Transport (iOS, Android) provides you with a more convenient way to pay for parking in all AT Pay & Display parking locations in Takapuna (Anzac Street Carpark, and street parking). SEE MORE HERE.
There are plenty of options for parking in Milford, most of them free, but please be aware of time restrictions.
The Milford Centre Shopping Mall offers more than 700 undercover or outdoor parking spaces. These parks can be accessed from Milford Road, Omana Road or Kitchener Road; they have a time limit of 120 minutes and are for mall customers only.