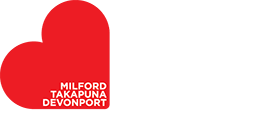 Maungauika/North Head Historic Reserve
Offering spectacular views of the Waitematā Harbour and Islands of the Hauraki Gulf is the strategically located Maungauika with its long history, first of Māori occupation, and then as a fortification, it is considered the most significant coastal defence site in New Zealand, due to the size, and variety of its defence installations that span almost 120 years.
Explore the tunnels with a self guided tour. See more HERE.
Fort Takapuna Historic Reserve
The O Peretu, is the ancient name of Takapuna Head/Fort Takapuna. A series of migrations, conquests, and occupations reflect the long Māori history of the area.
The buildings on this site (close to Narrow Neck beach) form a unique historic complex containing elements from all periods of New Zealand's coastal defense history.
Learn more about the history HERE.
Located a few kilometers from Milford is Greville Reserve. A family facility for Basketball, Cycling, Running, Scootering, Skateboarding and Walking. There's an all weather playing surface for both football and rugby, making this place a perfect day-in-the-park destination for active visitors of all ages.
This stunning and often unpopulated urban beach is located a short walk from the Milford shopping and hospitality area and is perfect for those looking for time-out from the bustle. Wander along to the edge of the marina, over the new foot-bridge that goes up and down to let the boats in and out, or take the kids to the new pirate park playground, or simply enjoy a walk or a swim at the beach.
Hauraki Gulf Maritime Park
The extraordinary natural resource that is the Hauraki Gulf Maritime Park covers an area of more than 1.2 million hectares. It incorporates five marine reserves and more than 50 islands, as well as mainland reserves, among which are Long Bay Okura Marine Reserve, Maungauika Historic Reserve and Fort Takapuna on the North Shore. Waiheke and Rangitoto (the youngest volcano in New Zealand) are just two of the islands and are within easy access of the North Shore by ferry.
The waters between Takapuna and Rangitoto Island offer some of the best sailing conditions in the world. Discover more by clicking HERE
Barrys Point Reserve - Takapuna
Located on the foreshores of Takapuna Beach, just minutes walk from the many cafes, restaurants and shops is this world class playgrond with an all abilities playing area, including its unique water play area and stunning views out over the Hauraki Gulf to Rangitoto Island.
JFK Memorial Park - Castor Park
The gun emplacements and tunnels were constructed during 1941 and 1942 as part of Auckland's World War II defenses. Join a guided tour (every second Sunday of each month between 11am and 2pm) or find out more HERE
Killarney Park - Takapuna
Nestled on the Shores of Lake Pupuke and home of The Pumphouse Theatre and cafe. Kilarney Park is home to a vibrant community of birds, including ducks, geese and swans and offers a very romanic and picturesque location just a few minutes walk from central Takapuna.
Located on the Northern shores of Lake Pupuke, close to both Milford and Takapuna and home to Mad Loop Windsurfing School and the annual Christmas in the Park event. Sylvan park offers the perfect spot to relax or try your hand at some lake Fishing or Watersports.
Takarunga/Mount Victoria - Devonport
Once a Māori pā (coastal defense site or village), Mount victoria is a short walk from the Devonport Wharf and Ferry Terminal, along Victoria Road. Offering 3600 views of Auckland's skyline, the Waitematā Harbour and Hauraki Gulf and Islands. The walk to the summit is worth it. Find out more HERE